Canoe rental
Canoeing in Eastern Norway?
Vansjøwas named by the travel panel in Aftenposten as one of ten recommended destinations in 2021. With us you can rent canoes for great canoe trips, so bring your family, group of friends or girlfriend on a canoe trip in Vansjø. We offer canoe rental of spacious and steady canoes (2-seater and 3-seater) to experience Vansjø up close. We recommend 2-4 people in each canoe, for example two adults, or two adults + two children. Most of the rental canoes are of the type Hasle 530 Classic.

We have a private pier that you can park right next to. There is a road all the way to the pier, which is approx. 300 meters from the farm.

We have a total of 15 canoes for canoe rental, as well as life jackets in different sizes. Information and orientation is provided when renting a canoe. Welcome to a canoe trip in the heart of Vansjø!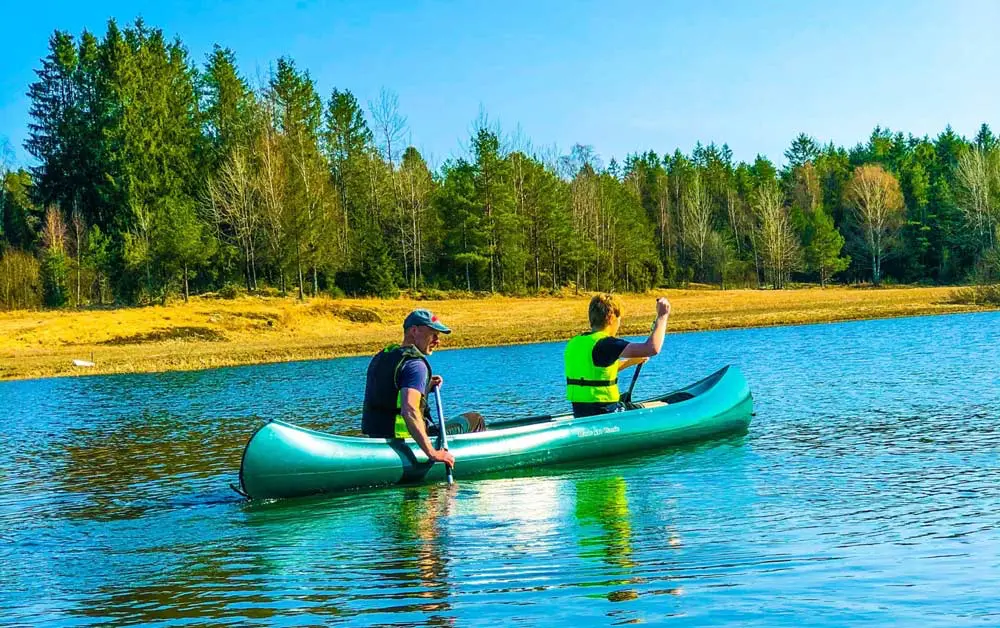 Prices
Price per canoe: kr. 400/day
Daily rental from 10.00 am to 10.00 am the next day.
If you want to have the canoe longer than 10 am, a new rental day must be booked.

Canoe, oars and vest, if you have ordered it, are ready from 10 am marked with your name.
Rental of life jackets: kr. 30/each.

Booking must be made in advance of attendance and is binding. Ordering a canoe and life jacket makes you responsible for payment for the desired period, regardless of whether the canoe or jacket is used or not.
Call +47 95811937 if you have questions about booking a canoe.

The canoeing season is from 1 April to 30 November.

Book a canoe
Other activities:
The surroundings around the farm are idyllic and well worth exploring in connection with your visit to the farm. Alpakkagaarden - Østre Kjærnes has a shoreline from east to west to the lake Vansjø. Here you will find beautiful wilderness and many nice secluded places in and by Vansjø.

If you are a guest at the farm, we can offer and tailor various activities and experiences in collaboration with Ut i det fri AS.

Introduction course sea kayak
4 hours - 1.200,- per person (Min. 4 persons)
Introduction course from the Norwegian Paddling Association. The course gives Våttkort.
Contact us for further course description.

Kayak experience with instructor
2 hours - 595,- per person (Min 4 persons)
A great way to experience Vansjø. After a short instruction, we paddle a trip and enjoy the beautiful calm landscape in the middle of Vansjø. The guide tells about the history of Vansjø and the area along the way. The price includes local guide/instructor, kayak, oar, life jacket and splash cover.

Kayak experience for experienced with instructor
2 hours - 595,- per person (Min 4 persons)
This is a trip for those who have experience or a wet card from before. We paddle a slightly longer trip in the beautiful Vansjø landscape. The guide tells about the history of Vansjø and the area along the way.
The price includes a local guide/instructor, kayak, oar, life jacket and splash cover.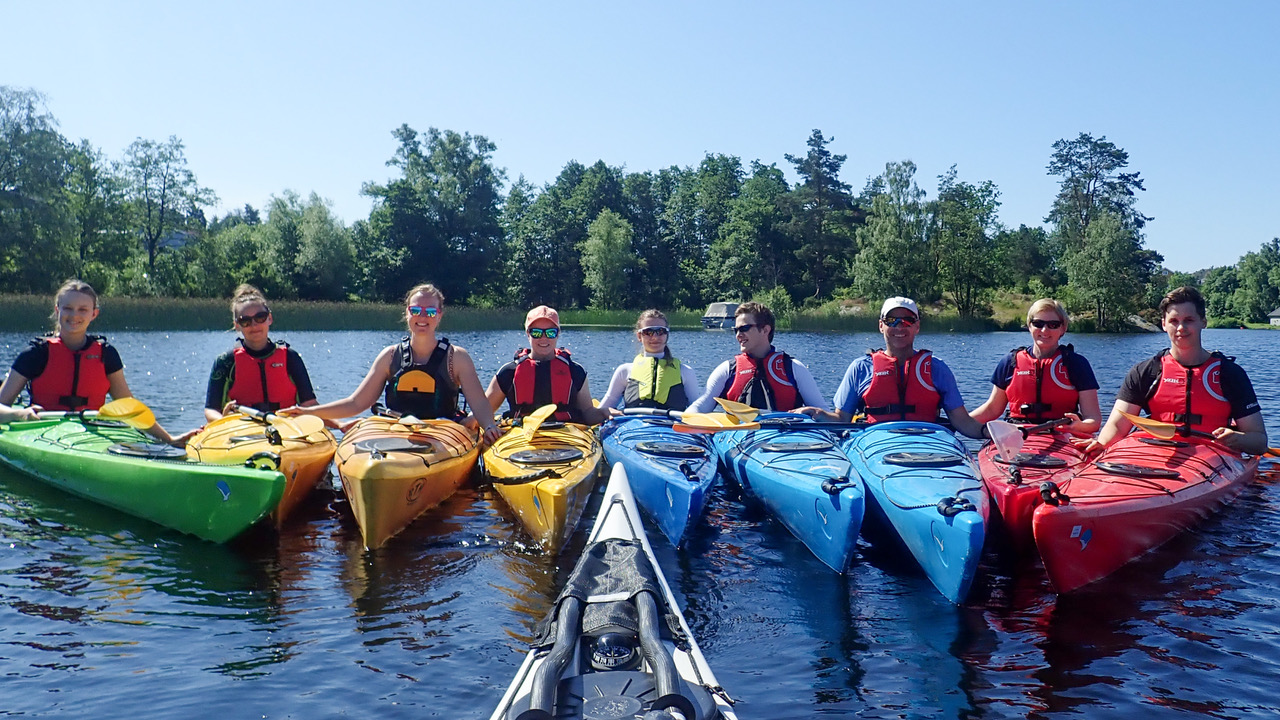 Mini course in bushcraft
2 hours - 395,- per person (Min 4 persons)
Bushcraft is about being able to take care of yourself in nature with simple means. In this mini-course you will learn a bit about what bushcraft is and you will learn how to handle knife, axe and saw in simple and safe ways, and you will learn how to light a fire without using matches or lighter. Suitable for everyone, no prior knowledge necessary.

Pentathlon as teambuilding
2 hours - 395,- per person (Min 4 people)
Through a pentathlon with tasks and challenges that suit everyone, we create space for cooperation, mastery and joy for smaller and larger groups.

Everything takes place in the immediate area of the farm, and it all ends with a joint gathering that pulls all the teams together into a unit.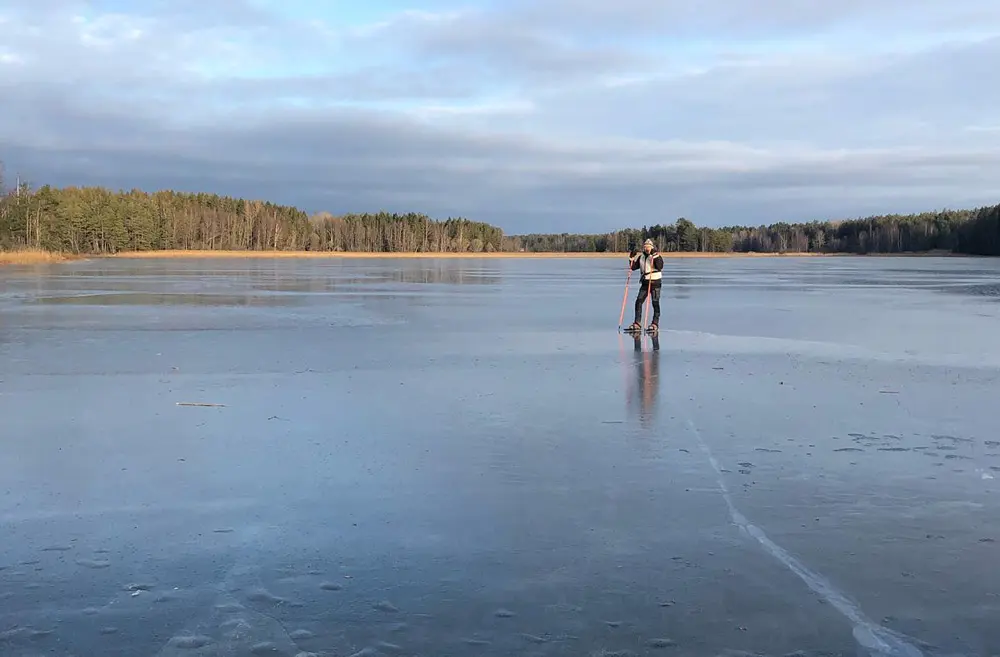 Ice skating - Norway's new winter activity
2-3 hours + transport - 995,- per person (min 4 persons)

Vansjø is just as beautiful in summer as in winter. An eldorado for the outdoor enthusiast. In cold winters with little snow, this is a favourite place for ice skaters. This is an activity with a strong focus on safety, and one that can only be done when the ice is good enough. The reward is a fantastic and unique nature experience with local guides/instructors. Here you get the good stories, the background of old place names and the history of Vansjø. Stop along the way with a campfire and real old-fashioned campfire coffee. You should have some experience on skates, and you must bring your own ski shoes/boots with either NNN or BC bindings (common cross-country ski bindings) and a complete change of clothes. Own transport to the meeting point (the ice determines where we start).

The price includes two local guides/instructors, backpack, helmet, skates, poles, throwing line and ice spikes.

We are happy to tailor an arrangement in connection with a stay (accommodation, course or similar) here at Alpakkagaarden. For example, a one or two-day course package for groups. Contact us via the form or by e-mail.