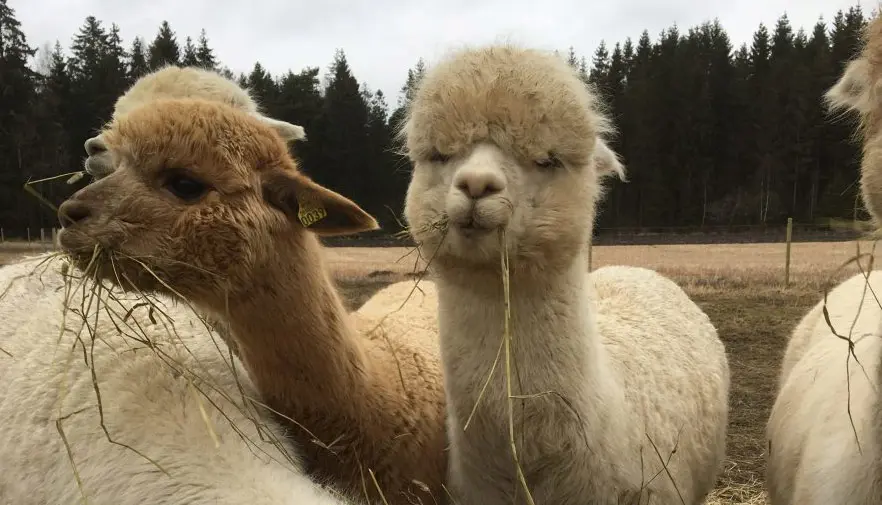 Alpaca farming
Are you interested in having alpacas on your farm, or do you want to expand your existing alpaca herd? We have alpacas for sale and can provide good advice, guidance and follow-up. See the information below and feel free to contact us.

We started with alpacas in 2016, with five alpaca mares that were delivered from Lille Alpakka in Nesbyen, and today we have a herd of about 30 alpacas. We have pregnant mares and expect new offspring in the summer of 2023. We focus on breeding and selling livestock. The alpacas are also the farm's production animals that provide us with fibre (wool) that we process into finished products. The alpacas are often used as therapy animals in our Inn på tunet offer. We offer alpaca safaris and alpaca walks on the farm. Alpacas are herd animals, and our animals are used to people and visitors. Some of the alpacas are also trained to go on alpaca walks. Alpaca hiking is a guided tour where participants rent their very own alpaca for a walk in the forest and fields.

Breedingservice for your alpaca mares
In 2020 we bought the breeding stallion NC Big Bang, a medium fawn stallion from Knapper Alpakka. BigBang has given us brown, fawn and white crias (baby alpacas in 2021). They are great! We rent out Big Bang if you want to cover your mares. Big Bang gives very good offspring. He produces in several colors and is therefore a great stallion to use in a colored mare herd.

We offer free mating of young mares the first year if you have bought a young mare from us that is not pregnant. Our alpaca herd is registered in the Norwegian Alpaca Register (NAR) under the name Kjærnesgård. All our animals have a health certificate, are vaccinated and followed up with vitamins and minerals. Their nails are regularly trimmed, and their feathers are cut every year in April/May. All alpacas are trained to wear a halter. ?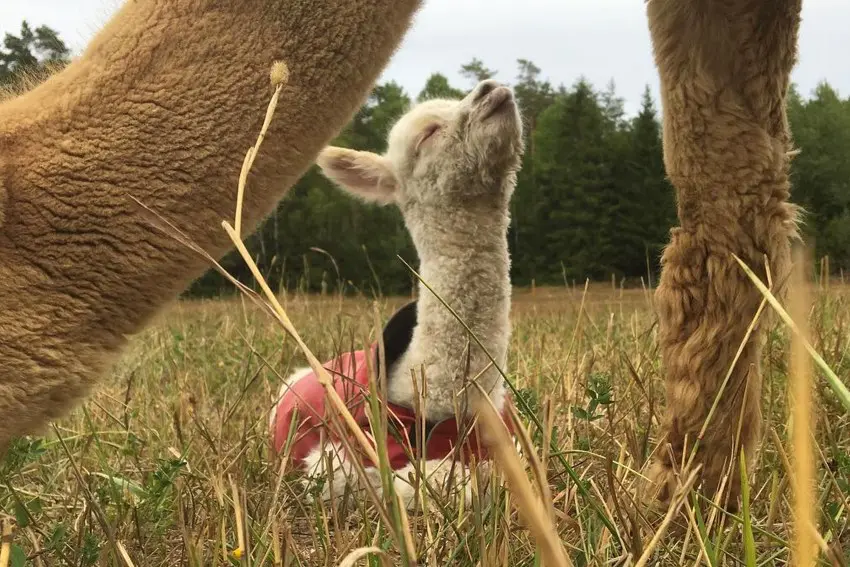 Alpacas for sale
We have several animals for sale. The price starts from kr. 25 000,- for halter trained and manageable geldings. Pregnant mares from 60.000,-.
(price varies according to the animal's pedigree, quality and other characteristics). We offer a package price with a discount when buying 4 or more animals.

We are committed to breeding so that the herd overall improves. We want consistent and good quality throughout the flock because we want to utilize all the fiber for yarn and alpaca products. We want good health and good behaviour in all the animals we have. We are therefore careful to use stallions that have a good pedigree, good behaviour and have produced good offspring in the past.

Alpaca shows
We have mostly white animals, some fawn (lighter than brown), some brown and some black (true black). White alpacas have been bred the longest, so they produce the best quality fibre. White is also the dominant colour in alpacas. White fibre is considered most valuable because of its good quality and because it can be dyed.

You can find useful information at https://www.alpakkaforeningen.no/info/

where you can find information about the Norwegian Alpaca Register (NAR). You will also find a link to the alpaca guide.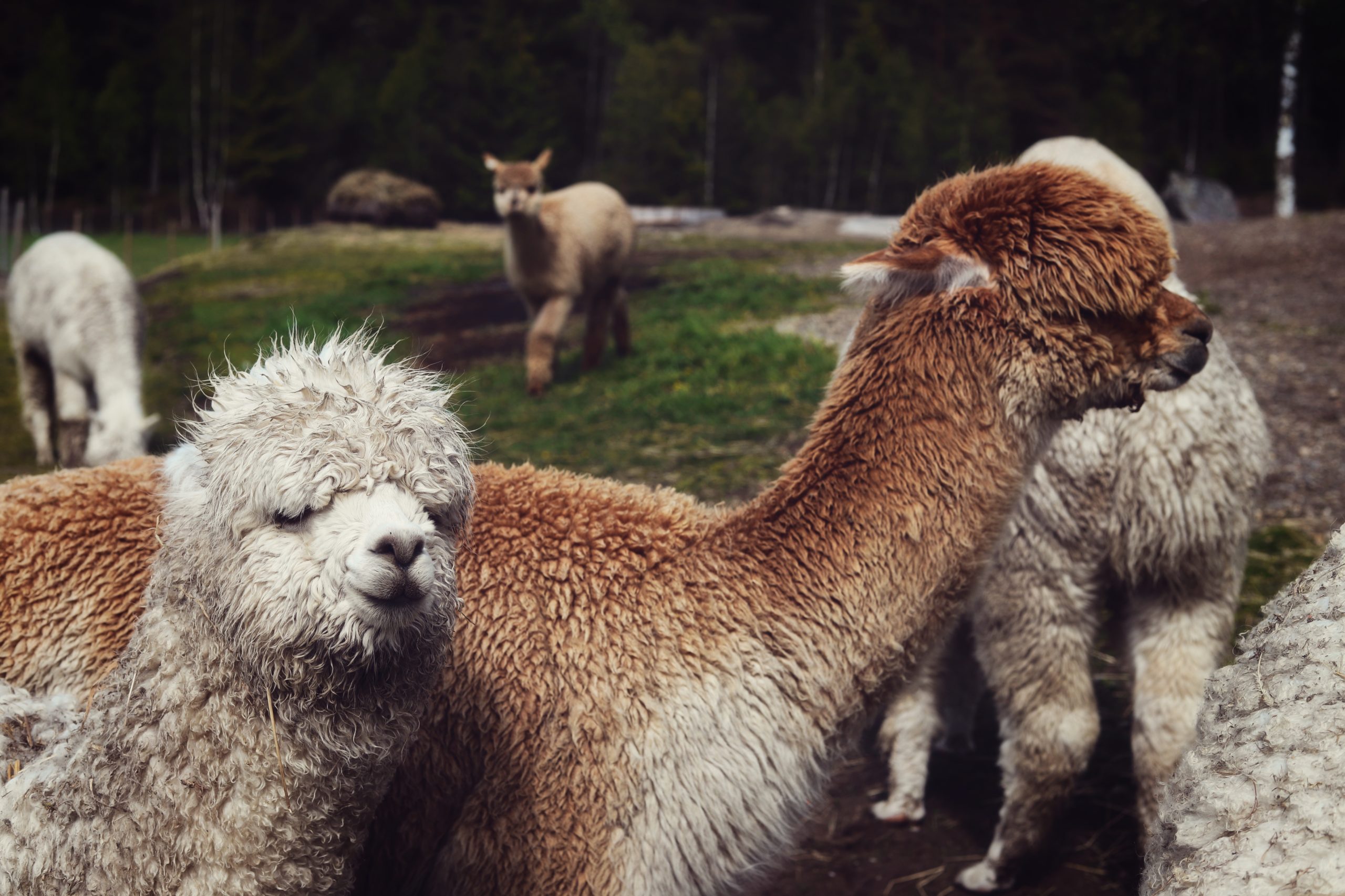 General information about alpacas
The alpaca is a peaceful animal belonging to the camel family. It is originally from the Altiplano, a large area in the Andes in South America. They have an average weight of 60-70 kg and a shoulder height of around 1 metre. Around 80% of the world's alpacas are in Peru, but the USA and Australia also have large populations. In Europe, England has the most alpacas, and now Norway is following suit. There are currently 150 members of the alpaca association in this country.

History of the alpaca
The luxurious fibre of the alpaca has been used for thousands of years. In the Andes, alpacas were highly valued by the Inca Indians, who depended on these animals as a source of warm textiles and food. The Spanish invasion of South America in the 16th century nearly wiped out the alpacas, but they survived because they had retreated to mountainous areas where they were inaccessible.

In the 1990s, the first alpacas were exported from Peru to the United States and Australia, and a few years later they were also exported to Canada, New Zealand and England. In Norway, the first alpacas arrived in Hornindal in Sogn og Fjordane in 2004/2005.

The alpaca is a very popular animal and is therefore predicted to have a bright future here in Norway.