Alpaca walk and alpaca safari
Join our alpaca walk in beautiful surroundings. Alpaca walking in Våler is a popular activity, where everyone over the age of 12 can rent and look after their own alpaca on a guided tour in the beautiful nature around Alpakkagaarden. The Alpaca Walk experience lasts around 90 minutes. We start with the guide giving us an introduction about alpacas, then we walk with the guide for around 30 - 45 minutes. After the alpaca tour there will be an opportunity to feed your alpaca with snacks. Alpacas are very funny animals, so this is a very popular activity among both alpacas and visitors!

You can also join our alpaca safari, an alpaca visit where you spend time with the alpacas in the alpaca garden. The alpaca safari lasts approx. 45 min. Here we visit the different alpaca gardens, where a guide will tell you about the animals. The alpaca safari is suitable for everyone, including families with small children. In addition to feeding the alpacas, the guide will tell you a lot about the animals - and there is plenty of opportunity to take lots of pictures.

After the walk or safari, the farm shop is open, where we sell alpaca products such as yarn, soles and other alpaca garments, as well as alpaca souvenirs.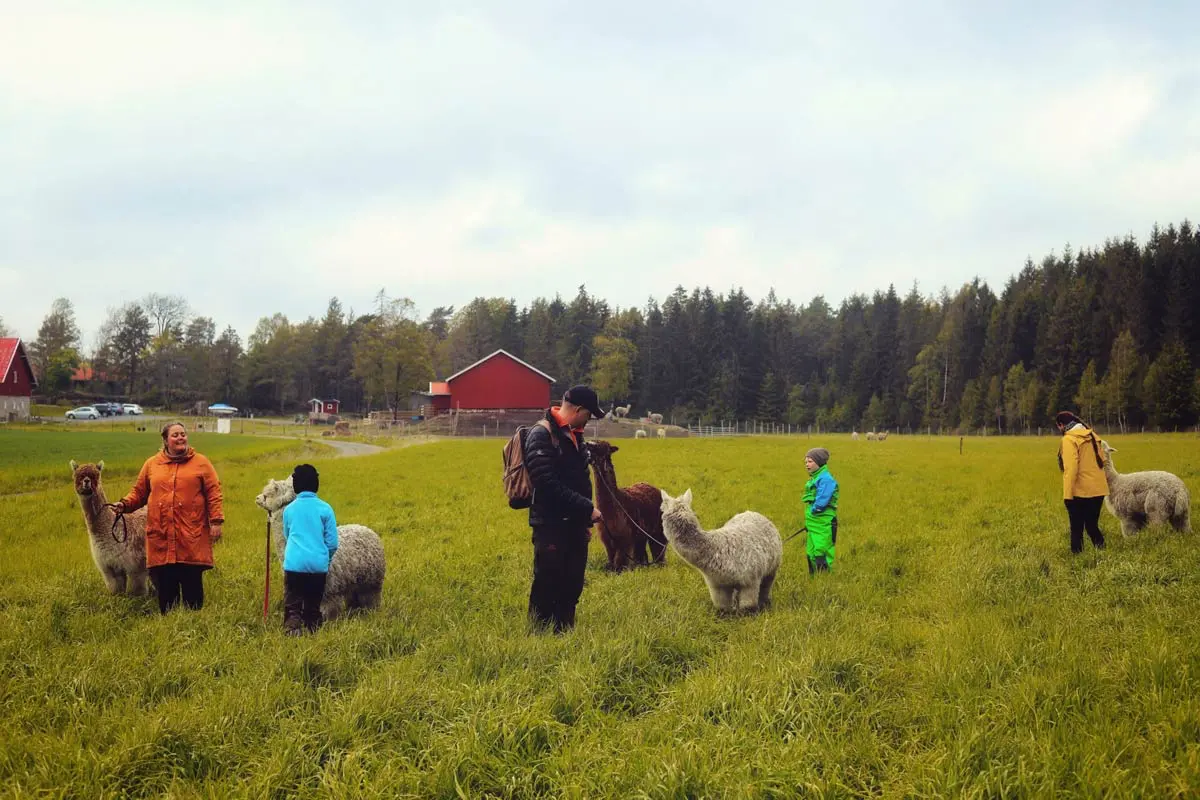 Alpakkagaarden is one of the few that offers alpaca walks in Østfold and we have alpaca walks and alpaca safaris all year round. Remember to dress according to weather and temperature. We reserve the right to rebook if extreme rain is forecast 24 hours before the alpaca walk. It is important to us that both animals and people have a good time on the experiences. The alpaca safari is conducted regardless of the weather, as we can enter the alpaca houses. The alpaca walk is suitable for everyone over the age of 10, children must be 12 years old to rent their own alpaca. The hike takes place in easy terrain, participants must be able to walk for 2 km. If the children are between 10-12 years old, book a participant without an alpaca. The alpaca safari is suitable for everyone and children under 2 years old are free.

We recommend that you book your alpaca hike and alpaca safari well in advance, preferably more than two weeks in advance, as this is a very popular activity.

Booking conditions: Booking is binding, with the possibility of rebooking 14 days before the alpaca experience. In the event of cancellation due to illness, we await a medical certificate and then refund 90% of the amount or make a rebooking.

Do you have gift cards from You Wish or gift cards with a reference number?
Then these must be booked directly with Alpakkagaarden (not online booking). First see if you can find a date where there are available seats, then contact us by SMS 93204001 or email: post@alpakkagaarden.no to book the seats.

All gift cards must be used before the expiry date. Gift cards are valid for 1 year from the date of purchase. Completion of the alpaca experience must be done before the gift card expires. Remember to book in good time!